Talks, Workshops and Classes
"Flor shared her extensive knowledge and evident passion for Flower Essences through a detailed and thoughtful interactive presentation and visual and sensory treats! Absolutely amazing!" JN
UPCOMING EVENTS 2018
Be Well and Beautiful Wellbeing Fair


Sunday 23rd of September 1.00-3.30 pm
Location: St Margaret's Hall, Bradford-on-Avon.
Free admission. Get your ticket here
Introduction to Healing Touch- FREE workshop
Wednesday 26th of September 11.00-12.00
Location: Bradford-on-Avon Library.
Booking necessary  01225 863 280
Emotional Balance through Flower Essences
Thursday 4th of October, 6.00-8.00 PM
Booking necessary before 1st of October
Location: Neal's Yard Bristol.
More info
Emotional Balance through Flower Essences
Tuesday 9th of October, 2018, 6.30-8.30 PM
Booking necessary before 6th of October
Location: Quakers Meeting House, Bradford-on-Avon.
More info
Emotional Balance through Flower Essences
Friday 23rd of November 6.00-8.00 PM
Location: Yoga Bodhi, Bath
More info
PAST EVENTS
Emotional Balance through Flower Essences
Thursday 28th of June 2018, 6.00-8.00 PM
Location: Neal's Yard Remedies Bristol
More info here or email flor@flortaboada.com. Spaces are limited.
Registration: NYR Bristol-  Tel 0117 946 6035
Emotional Balance through Flower Essences


Sat 19th of May 2018, 10.30am -12.00
Location: Neal's Yard Remedies Bristol
Registration: NYR Bristol.  Tel 0117 946 6035
Workshop "Healing your heart, loving yourself"


Sat. June 17th 2017 10.30am -1.30 pm


A workshop for women recovering from heartbreak.




Location: C.R.S. Manhattan (Union Square).




More information 

here. Pre-registration necessary by June 14th. Register here
Workshop "Healing your heart, loving yourself"


Sat. April 15th 2017 10.30am -1.00 pm
A workshop for women recovering from heartbreak.
Location: C.R.S. Manhattan (Union Square).
Keynote talk on Flower Essences at the IYI "Spa day for Women"


Nov 13th 2016. 1.00-2.00 pm
Location: Manhattan. Integral Yoga Institute. Information and Registration IYI
Emotional Balance through Flower Essences


Nov 11th 2016. 1.15-2.13 pm
Location: Midtown Manhattan. Feng Shui Group. United Nations.
Information and Registration flor@flortaboada.com
Introduction to Flower Essences: Finding Emotional Balance and Well-Being




Tuesday July 2016 12th @ 6.15 pm




Location: Integral Yoga Institute. Manhattan.
Learn how to use Flower Essences. A 3 half-day practical workshop

 


3 Fridays: April 22nd, 29th and May 6th 2016


Location: Brooklyn (near Atlantic Avenue-Barclays Center.)
Emotional Balance through Flower Essences- FREE Workshop


Sat April 9th 2016
Location: Manhattan. Integral Yoga Institute- Integral Yoga Wellness Spa

Healing Touch Self-care Workshop 


Oct 29th  2015
Location: Manhattan.


Registration

: flor@flortaboada.com
Introduction to Flower Essences as part of the "Spa day for Women"


June 14th 2015
Location: Manhattan. Integral Yoga Institute. Information and Registration: Prakash (212-929-0585)
Practical Workshop on How to use the Bach Flower Remedies


March 20th and 27th 2015
Location: Manhattan. Information and Registration:  flor@flortaboada.com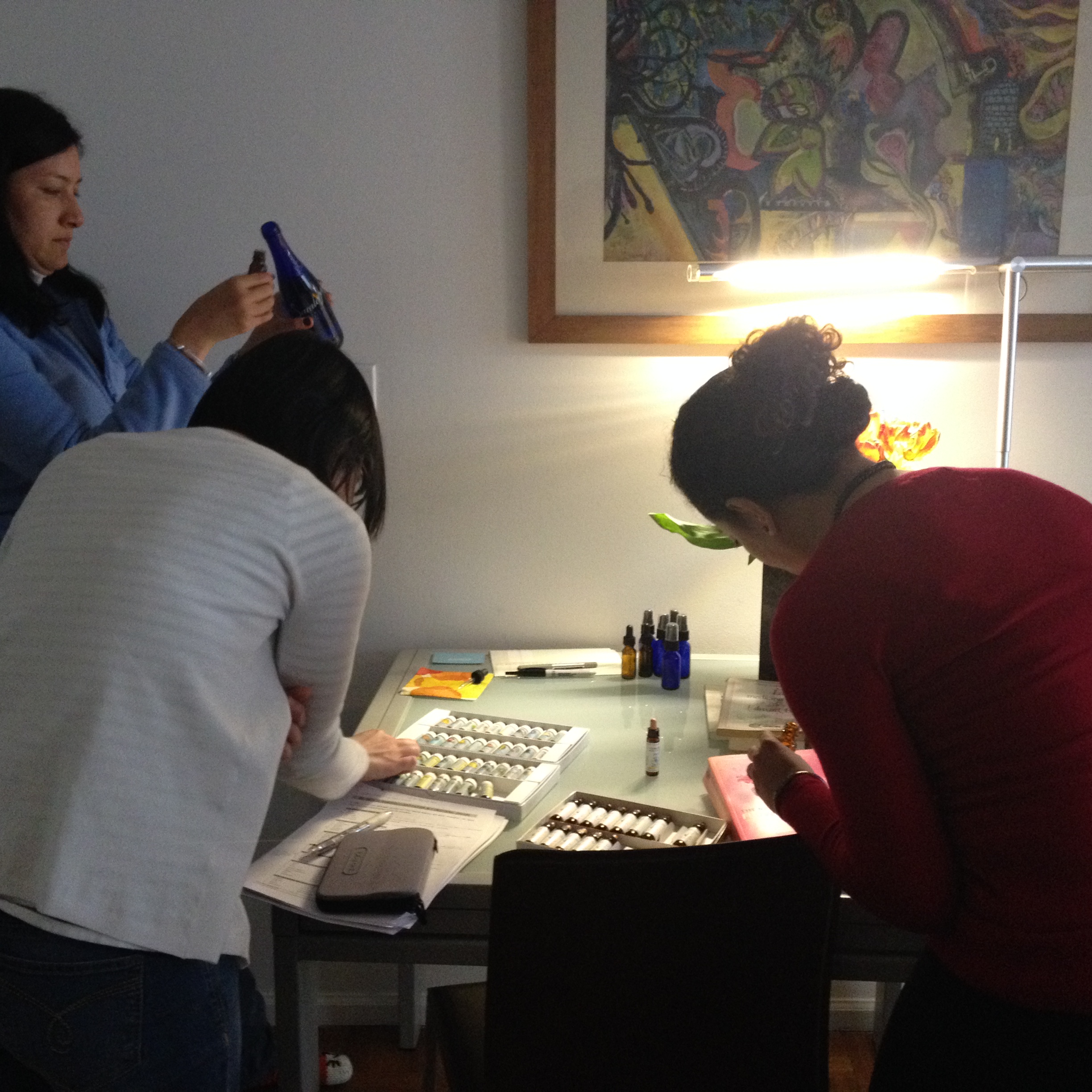 Students preparing Flower Essence Blends
"Flor opened our eyes to an unknown world, that of the Flowers that heal. And along with PowerPoint slides, essence tasting, questions and laughs, an evening of healing flew by. Thank you." AC
"Flor shared her extensive knowledge and evident passion for Flower Essences through a detailed and thoughtful interactive presentation and visual and sensory treats! Absolutely amazing!" JN
"Flor Taboada is a great presenter, entertaining, clear, funny and with lots of experience in the field. If you missed this presentation make sure you attend the next one." MF
"Many thanks again for your wonderful presentation this morning. I thoroughly enjoyed it. I felt that I walked away from a meditation session!" NP
"Thank you so much for this introduction to Flower Essences. Your presentation was so clear. I enjoyed this mix of history, symbolism, poetry and healing science" OC
"Flor gave us an informed history of the use of flower essences and told us all about the influential figures in the development of the beliefs that underpin this approach. I would like to thank Flor for a splendid presentation on flower essences. It was an eye opener and a very educative experience.  Thank you, Flor. I have walnut flowers on my mind right now….lol!"  SM